Paid
Event Date: 17th December 2018
August 10th, 2019
Indo-American Chamber of Commerce is organising a workshop on Inbound Marketing: Leveraging digital into traditional business scheduled on 17th December`18 at Rotary Sadan (94/2 Chowringhee Road, Kolkata 700020) at 5.00 p.m.
Digital marketing enables one to use numerous digital tactics and channels to connect with customers where they spend much of their time: online. From the website to a business's online branding assets – digital advertising, email marketing, online brochures, and beyond — is a spectrum of tactics that one can learn at this workshop.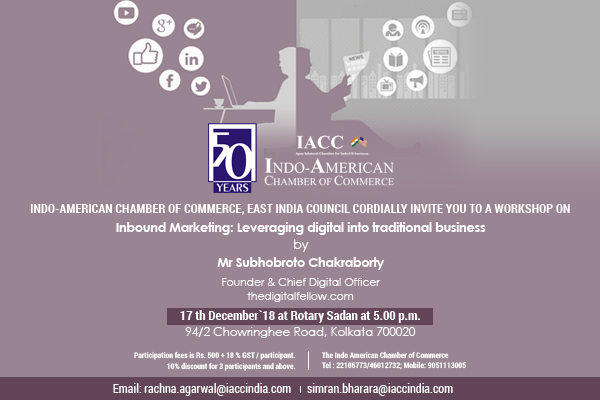 There are numerous answers to Why digital over traditional methods. This workshop will emphasise on 5 important points (mentioned below) focusing on how to leverage digital media into traditional business.
Customer preferences have changed and they have moved to the new media. They have evolved, unlike most traditional businesses.
Competitors of your brand have moved to the preferred media of communication by the audience.
Traditional media has got fragmented, thus, raising the cost of marketing without any definite ROI.
The marketing resources at a Traditional firm have become outdated and cannot grasp digital due to the gap in knowledge. Thus, cannot guide or monitor the agencies in terms of how to and what to do.
Businesses do not scale up. This is because of the old traditional methods they still follow.
Join the workshop if have the following queries about the digital world:
Why you we need digital?
How digital transformation help?
What is digital Transformation? how to do it?
How to check digital leakage?
How to get customers easily?
What is content marketing? how it works?
Faculty:
Subhobroto Chakroborty, the founder of a steady rising Digital consultancy firm, started from scratch and got the company operational across the APAC region within a year and a half.
He is an Eminent Keynote Speaker at Digital Conferences which include Social Media Week  & Global Digital Marketing summit in the list.
| | |
| --- | --- |
| Entry INR Price (Non Members) | 500 plus 18% GST |
| Entry INR Price (Members) | 500 plus 18% GST |