Paid
Event Date: 9th & 10th December 2019
December 4th, 2019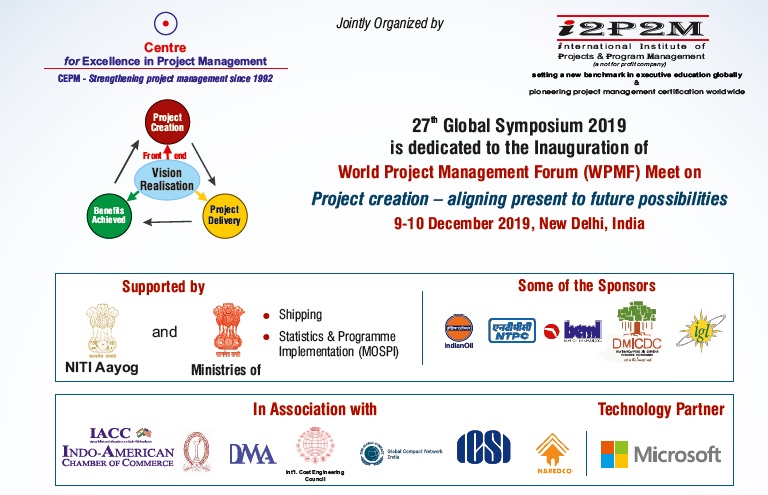 We are pleased to inform you that Indo‐American Chamber of Commerce is one of the Associates for the 27th Global Symposium 2019, which is dedicated to the inauguration of the First ever World Project Management Forum (WPMF) Meet. The theme of the WPMF is 'Project creation – aligning present to future possibilities'. As this is major event at a global level, Niti Aayog and ministries of Statistics and Programme Implementation (MOSPI) and Shipping are fully supporting the First WPMF.Top‐notchPrivate and Public sector companies are also supporting this unique event in a big way.
Globally renowned experts from countries such as Japan, UK, Germany, Australia, USA, Norway and Finland are participating in the first WPMF. This prestigious event is being organized at the Le Meridian Hotel on the 9 & 10th of  December 2019.
The Brochure along with the programme for the same is enclosed.
IACC supported the 26th Global Symposium held last year on the theme of 'Managing Uncertainties in Today's Competitive
Environment'.
We would like to request you to join or nominate 1 to 2 persons from your organisation to register for the symposium.
Centre for Excellence in Project Management (CEPM), the main organiser of the 27th Global Symposium dedicated to WPMF has offered a very special 60% discount on the applicable registration fee to IACC members.
To avail the special discount, please register on following URL https://www.cepm.com/wpmf/Register.aspx and use Code C60 while registering.
For more details you are requested to contact directly Mr. Adesh Jain, who is symposium Director and Co‐founder of WPMF. His cell number is 98103 22048.
We look forward to large number of participants, support and contribution towards the 27th Global Symposium 2019 from IACC membership.
| | |
| --- | --- |
| Entry INR (Members) | 25000/- (60% discount to IACC members) |
Click here for Program Details