By Registration Only
Event Date: 17th August 2023
August 15th, 2023
Over the past 76 years, India has emerged as the fastest growing large economy in the world, and the partnership between the United States and India has grown to be predominately characterized by alignment in objectives, values, and vision.
India-U.S. bilateral relations have developed into a "Global Strategic Partnership", based on shared democratic values and increasing convergence of interests on bilateral, regional and global issues. The emphasis placed by the Government in India on development and good governance has created opportunity to reinvigorate bilateral ties and enhance cooperation. According to the President, and CEO of US-India Strategic and Partnership, 2022 was "a momentous year" for US-India relations, as the two nations celebrated 75 years of diplomatic relations.
Today, the relationship, which has been dubbed as the most important strategic partner of the 21st century, has moved long beyond symbolic platitudes between the world's oldest and largest democracy to robust engagements across trade, defence, climate, and technology, education and health. As forecasted in 2023, the bilateral relationship would cement even further to address the challenges of tomorrow, continuing to be a partnership for global good.
The Indo-American Chamber of Commerce, East India Council, aims to highlight and uphold, India's G-20 Presidency and the commonalities that India's priorities as President have with the US. Through this one-day session, IACC aims to conduct valuable sessions and engaging discussions in further cementing the ties between the nations.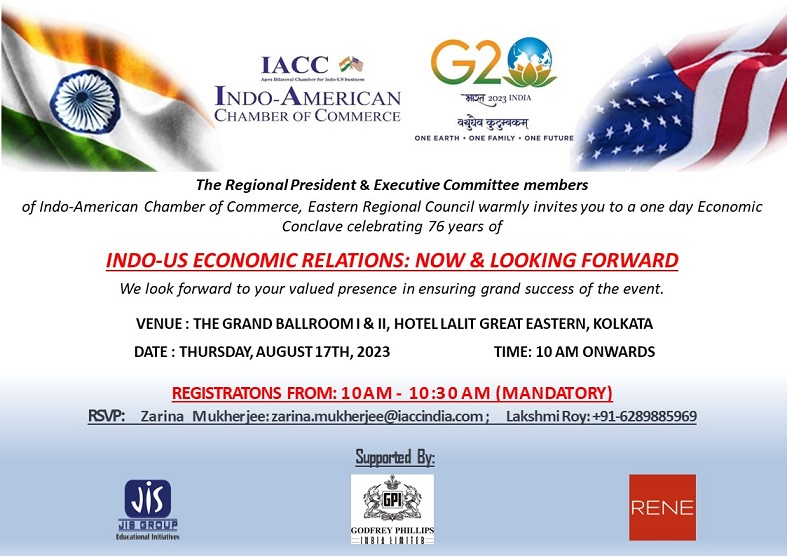 Who Should Attend?

The event which will be divided into 4 technical sessions is open to all who are interested. Focussing on Manufacturers, business houses, economists, bankers, educationists, healthcare experts, climate change officers and sustainability experts