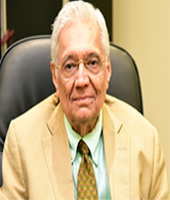 Mr. Suresh Kotak
Chairman, IACC Textile Forum
Background Note: India is the one of the world's largest producers of textiles and garments. As per the data revealed by Ministry of Textiles, Government of India textile contributes 14 % to the GDP and 15 % overall export earnings. Textiles & garments in India is considered to be second largest producer and employment provider employing 51 million people directly & 68 million people indirectly in 2015-16. The potential size of the Indian textiles and apparel industry is expected to reach US$ 223 billion by 2021.
Indo American chamber has formed textile forum to take up emerging opportunities in the textile sector and create a favorable ecosystem of trade by synergizing strengths that both the nations offer in different aspects & segments of supply chain.
IACC Textile forum would deliberate on some of the trade agreements like NAFTA and TPP as they remove barriers to markets. This agreement forms a solid foundation in creating a congenial bilateral trade relations between the countries. NAFTA offers larger markets and economies of scale, and therefore lower costs, opportunities for plough-back into R&D. TPP (Trans Pacific Partnership) is the first trade agreement that explicitly requires participating nations to provide technical assistance and web portals to small business owners to help them in providing market assistance. If TPP is getting dead, India and China will largely benefit and there could be possibilities of American investors coming to India and investing in production facilities.
Objectives of IACC Textile forum:
To facilitate and create synergies in textile sector by enhancing bilateral trade between India and US in textiles
To deliberate and research on the emerging issues leading to the growth of textile sector
To provide Market Development Assistance (MDA) for export processing units in textiles
To focus on adoption of upgraded technology, so as to become an integral part of the entire value chain of textile production
Approach for IACC Textile Forum:
Create an Textile Helpdesk and address emerging issues arising in the textile sector
Create business tie ups (B2B) linkage in textile business
Encourage inbound & outbound delegation to USA
Conduct various programs related to growth & development of textile sector
IACC Textile Forum (Areas of Focus):
Developing Technical Textiles
Promotion of Apparels
Technological Upgradation
Product Diversification
Increase in Exports
Seminar Proceedings on Indo US Partnership in Textiles 18.05.2017
Letter to Mr Gregory, US Commercial Head