By Registration Only
Event Date: 2nd June 2021
Applications have closed
June 28th, 2022
The outcome in any situation, especially during a crisis, boils down to one word – Leadership. As we pass through an unprecedented crisis in the form of Covid-19, leadership has been put to the test at all levels.
The pandemic's sheer scale has taken an enormous toll on the economy, in addition to a huge human cost. The early days of the pandemic dealt a substantial economic blow, while the second wave has been devastating in terms of loss of lives. The uncertainty of the situation, when we still do not know if the worst of the pandemic is behind us or not, how long the current wave will continue, and what more changes it will force, has made the leadership challenge even more complex than it usually is. And to make matters worse, dire warnings are already being issued about a third wave, which, if it happens, would be much worse than the first two waves.
It is essential to be ready for any such eventuality, and what better way than to learn from leaders.  IACC Gujarat branch has invited prominent leaders from business and academia to talk about the leadership challenges during the extended Covid-19 crisis. They will share their insights on how they have personally dealt with the situation, their experiences with their teams, and their views on the new normal. The leaders will also share their experiences on how they have kept the show going, so to speak, amid the multitude of challenges.
Mr. Yatindra Sharma, MD, KHS Machinery, Mr. Ajay Bhatt, President, Global HR at Intas Pharmaceuticals, Mr. Rakesh Gaur, President of Railway Division at Kalpataru Power Transmission, and Dr. Anjali Bansal, Professor, Leadership and Change Chair, at MICA, will speak at this virtual program. Mr. Gautam Gouthi, Leadership facilitator and Coach Building Leadership and Team Capabilities, will be moderating the session.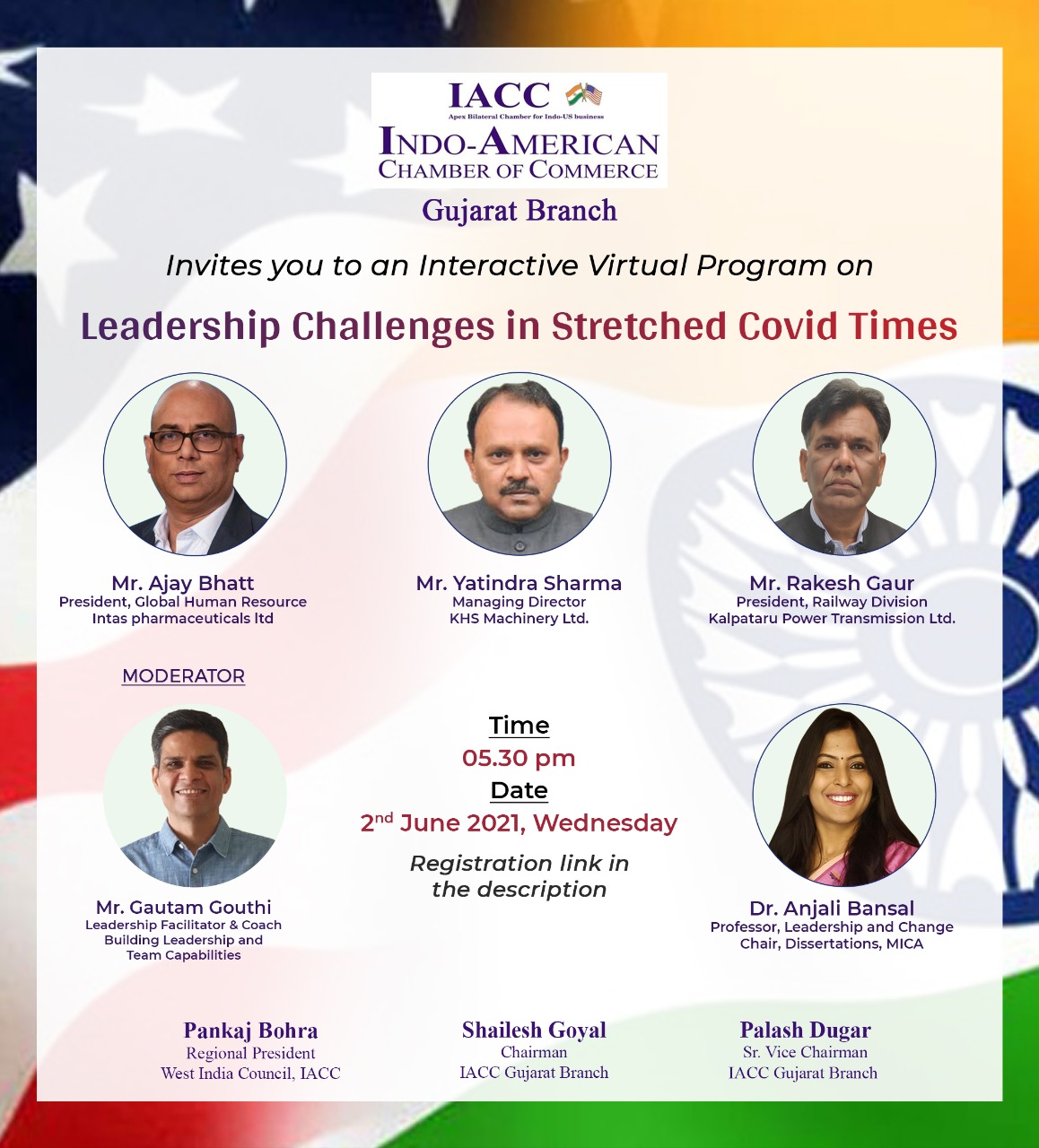 Register  today using the link below:
https://us02web.zoom.us/webinar/register/WN_KUCCOl8fSSO4K_4jggZ3Uw