By Registration Only
Event Date: 2nd February 2018
Applications have closed
September 27th, 2018
The Indo American Chamber of Commerce (IACC) is organising a 1 day National Event on 'Sustainable Future of Energy in India' to be held on 2nd February 2018, 10 AM onwards, at Hotel Taj Bengal, Kolkata.
Since Energy is the 'life blood' of any economy, availability of affordable and globally sustainable energy would be a key determinant in India's current and future growth. This seminar would aim to provide participants with an overall view of current and projected energy scenario in India, across different energy options, outlining optimal growth paths available to India.
Government of India Policy Makers, Energy experts, thought leaders, producers, distributors, consumers, energy and environment conservationists, from different sectors of the Power & Energy spectrum from India and abroad would explore the changing energy scenario in India with respect to demand growth and usage, traditional and renewable sources of power, energy and environment conservation and issues, to present their views on 'Sustainable Future of Energy in India'.
Recognizing the key role of Energy Sustainability in India, this program is being held to commemorate the 50th anniversary of Indo American Chamber of Commerce, the only Apex bilateral Chamber of Commerce synergizing Indo US Economic Engagement. IACC's geographical spread  is unique as it operates throughout the country at locations such as Ahmadabad, Bangalore, Bhubaneswar, Chennai, Cochin, Delhi, Hyderabad, Kolkata, Mumbai, Pune, Varanasi, & Patna. IACC also has MOU and tie up with 10 Chambers and Associations in USA.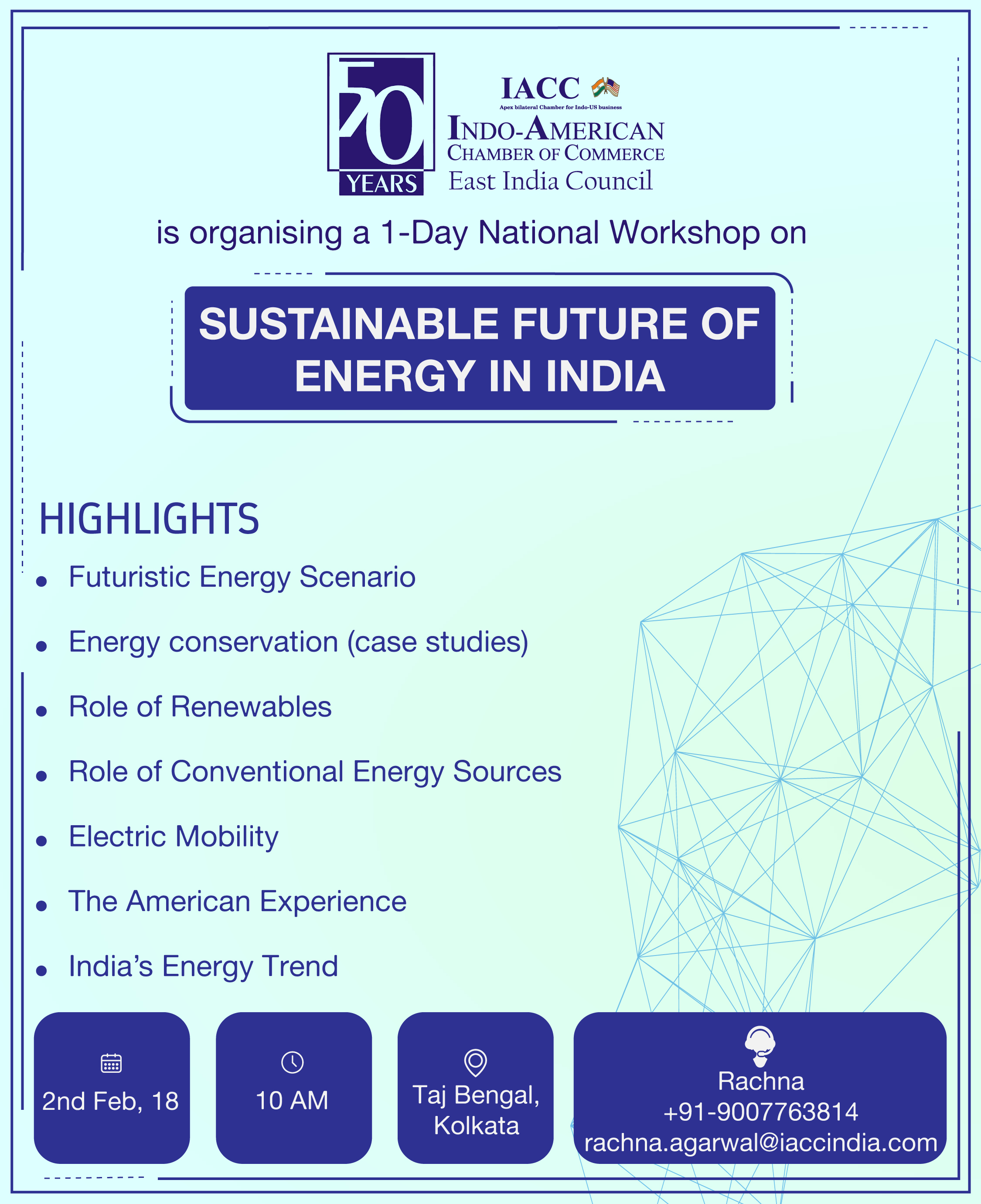 Who Should Attend?

Members
Corporates
Power companies
Government representative