Paid
Event Date: 17th & 18th April 2019
July 22nd, 2019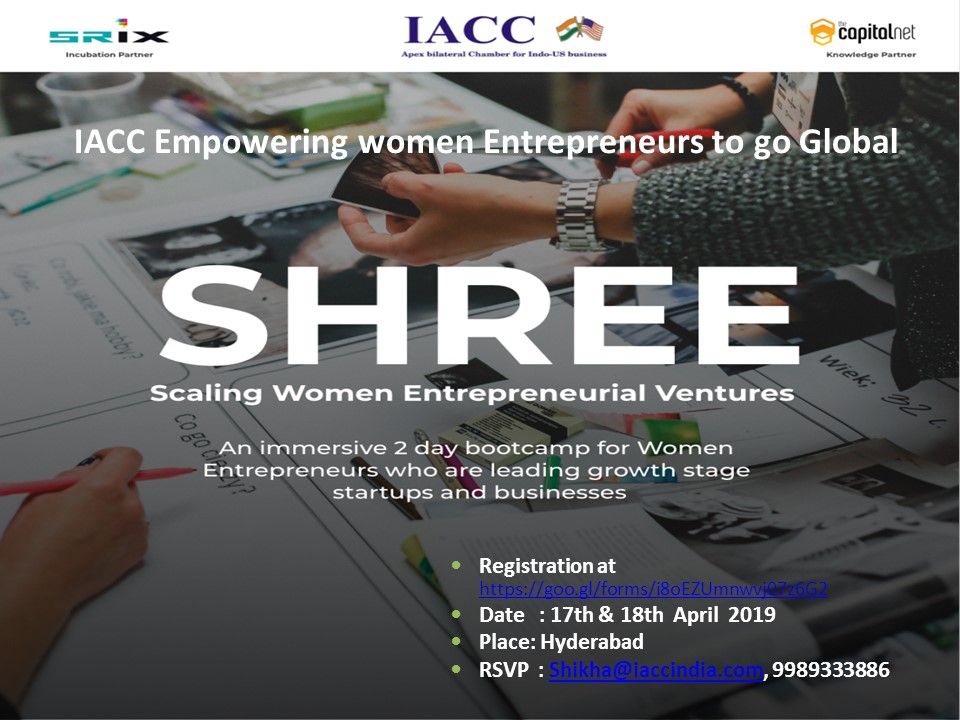 Greetings from Indo-American Chamber of Commerce ! 
We are pleased to invite you to a unique program SHREE which is Bootcamp to scale Women Entrepreneurial ventures. This is an immersive 2 days bootcamp scheduled on 17th & 18th of April from 9.00 am to 5.30 pm in Hotel Park Hyatt, Hyderabad.
Ms. Katherine Hadda, Consul General, US Consulate will be the Chief Guest of the Program at Valedictory Session and will give certificates to all participants.
Two days learning program will include sessions on various scaling up and going global strategies. Facilitators from prominent B-Schools, Industrialists from India & US connection, Business and sector specific Mentors will take the sessions. SR Innovation Exchange (SRiX) will provide post Bootcamp Mentoring support for 3 months for all the participants. The Capital Net has been roped in as the Knowledge partner.
The objective of this initiative to identify and promote potential businesswoman who are already in business and wish to expand their operations globally especially to USA. This program will give them required knowledge and guidance to think about global operations, where the opportunities and returns are realistic. IACC will connect these business women to potential business partners.
This learning session will form a cohesive group for peer learning and will also provide 3 months business and technical support along with connections in India and US as required. The participants will be shortlisted on eligibility criteria.
The Topics to be covered broadly are : 
Global economic landscape: finding the right market for your business
Go global strategies
Storytelling: different cultures, Marketing and communication
India regulatory environment when expanding overseas
Advantage USA: Setting up, taxation and more
Managing risk when growing overseas
Using technology for operational efficiency
People- Team and other Stakeholders
The Eminent Speakers invited for the two days program are :
Mr. Rakesh Bhatia
Founder & CEO, The Capital Net
Ms. Sreedevi Devireddy
CEO, SR Innovation Exchange
Mr. Murali Talasila
Partner & Innovation Leader, PwC
Ms. Sundari Pisupati
Partner, Tempus Law Associates
Ms. Santha John
Founder & Director Coach life Asia &
Chairman Emeritus JWT Mindset
Ms. Ekta Bahl
Samvad Partners, Hyderabad
Mr. Vikrant Varshney
Risk Evangelist & Contributor to Industry;
Angel Investor & Mentor
Mr. Digbijoy Shukla
Head of Start-up Ecosystem – India,
Amazon Internet Services
Ms. Mamata Vegunta
Director – Human Resources at Invesco (India)
We request you to take advantage of this unique program and confirm your participation by registering for the program.  
The interested participant can register by filling the form here and we will get in contact with them after completion of selection of process.
For any further information, please contact the undersign.
Looking forward to your kind confirmation,



Event Partners

SR Innovation Exchange and Capital Net