Free
Event Date: 14th November 2018
Applications have closed
August 8th, 2019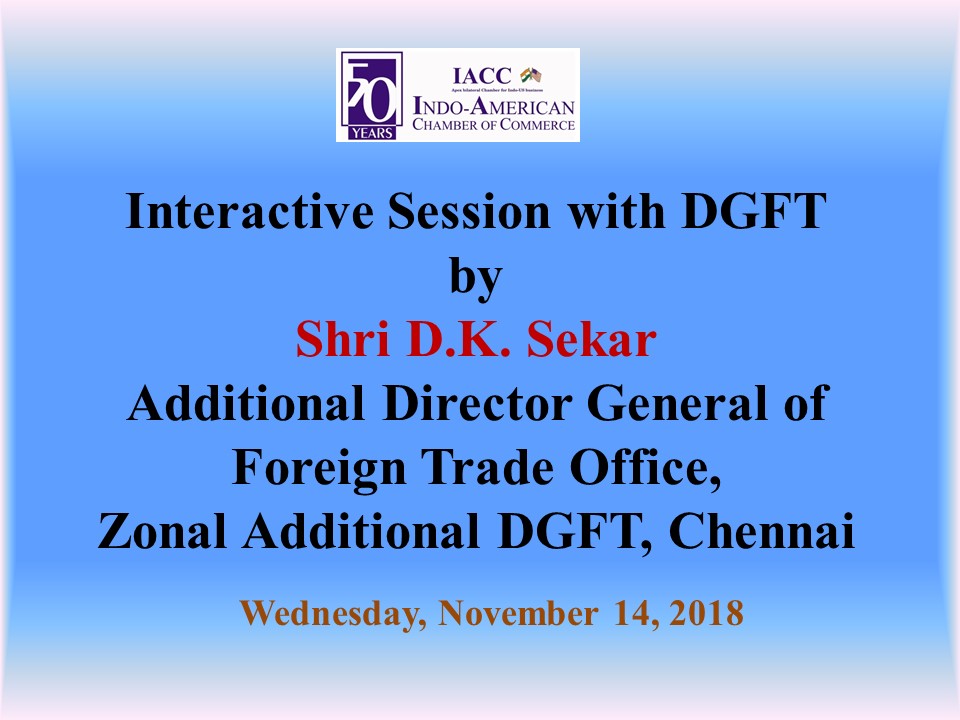 We are pleased to invite you to an Interactive Session with Shri D.K. Sekar, I.A & A.S Zonal Additional Director General of Foreign Trade and Head of Office, Office of the Zonal Additional DGFT, Chennai, Government Of India, Ministry of Commerce and Industry, to be held Tomorrow Wednesday, November 14, 2018 between 9:00 a.m. and 10.00 a.m. (Breakfast @ 8:30 AM) at IACC Conference Hall, No 38/4 SPL Sriram Nivas, Venkatakrishna Road, 1st Floor, Mandaveli, Chennai – 600 028.
Speaker's profile:
Responsibilities as Zonal Additional DGFT, Chennai, since 2017, on deputation to Government of India include:
Providing direction and support in carrying out Audit assignments in various sectors like State Revenues / Expenditure, Central Tax revenues, Central Departments, Railways, PSUs.
Overseeing the Regional Licensing Authorities of DGFT in the southern zone on implementation of Foreign Trade Policy and Procedures.
Understanding the latest trade trends, issues faced by importers / exporters, their likely impact on Foreign Trade and take up with various Government agencies for resolution of the issues impacting the exporters / importers.
As Accountant General, responsible for auditing the financial health of States and present reports to the state legislature and participate in discussions of legislative committees
Registration:
We request you to nominate suitable representatives from your company to attend and benefit from the deliberations.  There is no fee to participate however, we request you to complete the following details and submit by email to nirmala.raman@iaccindia.com as soon as possible to process your registration.
| | |
| --- | --- |
| Name | |
| Designation | |
| Company Name | |
| City | |
| Mobile Number | |
| Line of Business | |
| Breakfast- Yes/No | |
Please take note that Car Parking is not available in our premises. 
Look forward to your active participation.