Paid
Event Date: 7th January 2019
August 10th, 2019
Indo-American Chamber of Commerce in collaboration with Wharton University of Pennsylvania & Mack Institute of Innovation Management is organising a panel discussion on Innovate in India: How Companies from India and Bengal can Leapfrog to Lead on 7th January`19 from 5.00 p.m. – 7.00 p.m. at ICCR, Kolkata. 
Emerging technologies—artificial intelligence, robotics, additive manufacturing, automation, cloud computing, mobile, and data analytics, to name a few—are dislodging business models across industries.
This interactive discussion will focus on how companies can address the challenges and opportunities to successfully manage innovation, whether locally or globally. Representatives from Upen and Mack Institute will leverage their rich experience in advising global business leaders to explore current challenges, discuss best practices, and share insights from original cutting-edge research at Wharton.
Co-panelists:
Prof. Saikat Chaudhuri, Executive Director, Mack Institute for Innovation Management, The Wharton School, University of Pennsylvania
Prof. Harbir Singh, Co-director, Mack Institute for Innovation Management and Faculty Director, Huntsman Program in International Studies, The Wharton School, University of Pennsylvania

ABOUT THE MACK INSTITUTE
The Mack Institute for Innovation Management at the Wharton School fosters industry and academic communities to transform its innovation research into real-world impact. It is known for contributions in breakthrough innovations of products, processes, and business models, working with leading global firms across industries such as Johnson & Johnson, Cisco, Samsung, Citi, Nissan, Tata Communications, and SBI, to name a few. Details of the institute, its activities, and conferences, research, knowledge resources, and partnerships can be found here. 
We request you to kindly nominate few officials from your organization as participants to the mentioned discussion. The programme being rich in content, will be an excellent platform for learning, knowledge sharing and for simplifying your business process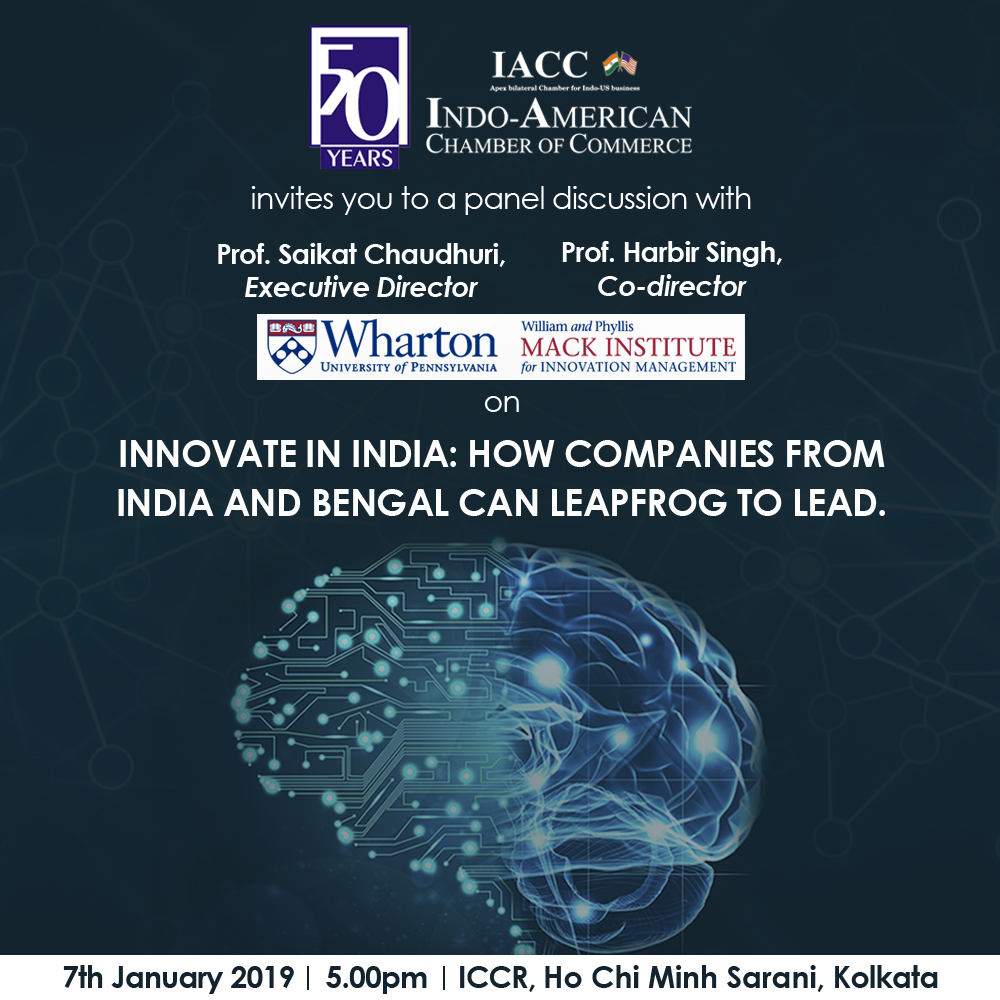 | | |
| --- | --- |
| Entry INR Price (Non Members) | 1200 plus 18%GST |
| Entry INR Price (Members) |  900 plus 18% GST |



Event Partners

Wharton University of Pennsylvania & Mack Institute of Innovation Management