Free for Members
Event Date: 23rd April 2019
July 22nd, 2019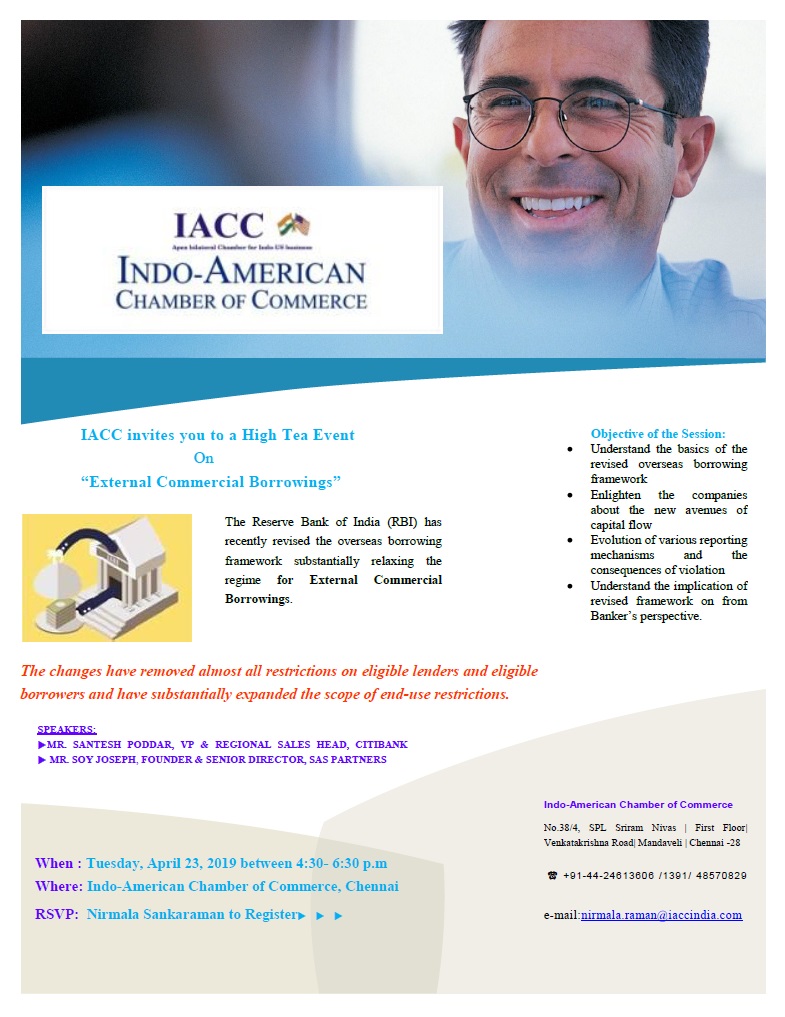 We are pleased to invite you to a discussion on the topic "Will new ECB framework change the borrowing strategies for Indian Corporate?" on Tuesday, April 23, 2019 between 4:30 p.m. and 6.30 p.m. at IACC Conference Hall, No 38/4 SPL Sriram Nivas, 1st Floor, Venkatakrishna Road, Mandaveli, Chennai – 600 028.  The eminent speakers for the session include: Mr. Soy Joseph, Founder & Senior Director, SAS Partners Corporate Advisors and Mr. Santesh Poddar, Vice President and Regional Sales Head, Citibank-Chennai.
Objective of the session is to:
Understand the basics of the revised overseas borrowing framework
Enlighten the companies about the new avenues of capital flow
Evolution of various reporting mechanisms and the consequences of violation
The implication of revised framework from Banker's perspective.
In the recent past there have been significant changes in the exchange control regulation and to be in line with the economic liberalization, the capital account transactions have been progressively liberalized. There are two critical components of capital flows, one being Foreign Direct Investment (FDI), other being foreign currency debt. There is virtually no restriction on FDI except for entry into specific sectors. However, until the recent past the External Commercial Borrowing (ECB) framework was very constraining. The inclination towards ECB for capital flow is generally more as debt is cheaper than equity. The ECB regime has evolved in response to the investment needs of the economy as well as that of specific priority sectors.
The Reserve Bank of India (RBI) has recently revised the overseas borrowing framework substantially relaxing the regime for ECBs. The changes have removed almost all restrictions on eligible lenders and eligible borrowers and have substantially expanded the scope of end-use restrictions. The new policy has increased the overall limit of borrowing without an approval requirement, which means that the RBI is moving towards self-regulated environment. On the contrary, it has introduced strict compliance requirements with stringent consequences such as the condition for payment of Late Submission Fees and Compounding of non-compliances.
The revised policy has to a large extent opened up the avenues for overseas borrowing, on the contrary does that mean that the reporting of compliances and the cost of breach have increased? Considering the recurrent changes in various regulations, it is very important to understand the evolving exchange control regulations under Foreign Exchange Management Act, 1999.
Profile of the Speakers:
Mr. Soy Joseph, Founder & Senior Director, SAS Partners, Corporate Advisors
He has over 20 years of experience and as a founder member he spearheads the regulatory operations and client relations. He was associated with emerging Corporates heading the corporate legal domain. His areas of expertise include Company Law, Securities Law, Foreign Exchange Law, NBFC Regulations, M&A Advisory and IPR Laws. He is closely associated with the South Indian chapters of the Institute of Company Secretaries of India (ICSI). He is an associate member of the Institute of Company Secretaries of India (ICSI), Institute of Chartered Secretaries and Administrators, UK and holds Bachelor degree in Law.
Mr. Santesh Poddar, Vice President and Regional Sales Head-Chennai, Citibank
He has over 17 years of experience in Banking and has worked in leadership roles in some of India's premier Banks across geographies. He headed the Corporate Cards division at HDFC and has been the Senior Relationship Manager for Fortune 500 Companies in Citibank. In his current role, he oversees the Acquisition portfolio for Citibank's Commercial Banking Division in South India. His areas of interest/expertise include FEMA/AML& KYC regulations.  He is an MBA from Indian Institute of Foreign Trade and is a commerce graduate.
Registration:
Due to limited seats, registrations are accepted on a first come first served basis.  Hence we request you to complete the following details and submit by email to nirmala.raman@iaccindia.com as soon as possible to process your registration.
| | |
| --- | --- |
| Name | |
| Designation | |
| Company Name | |
| City | |
| Mobile Number | |
| Line of Business | |
(Please take note that Car Parking is not available in our premises).
Look forward to your active participation,