By Registration Only
Event Date: 3rd November 2022
October 31st, 2022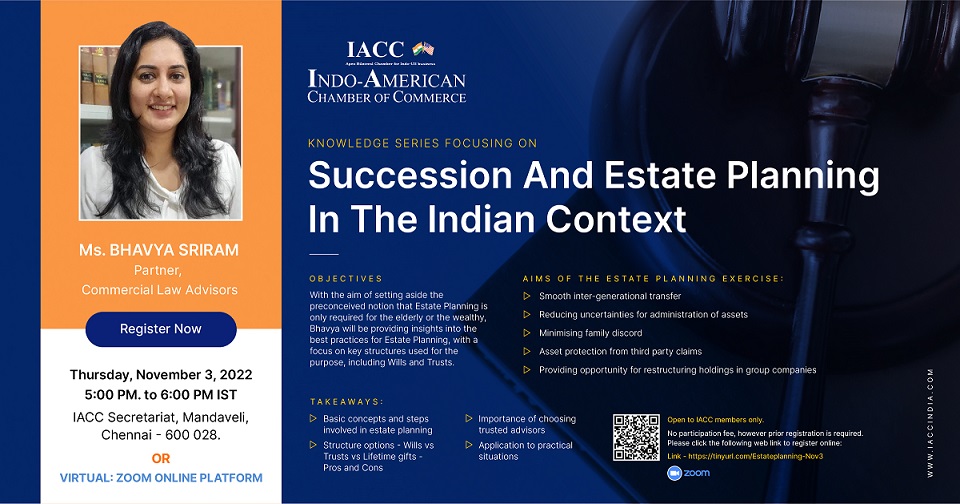 Indo-American Chamber of Commerce (IACC) is pleased to invite you to a knowledge series focusing on 'Succession and Estate Planning in the Indian Context'.
WHEN: Thursday, November 3, 2022
TIME: 5:00 p.m. – 6:00 p.m.
VENUE: IACC Secretariat, Mandaveli, Chennai 600 028 (or) VIRTUAL: Zoom online platform.
Our guest speaker Ms. Bhavya Sriram, Partner, Commercial Law Advisors will address on the topic of 'Succession and Estate Planning in the Indian Context'.
With the aim of setting aside the preconceived notion that Estate Planning is only required for the elderly or the wealthy, Bhavya will be providing insights into the best practices for Estate Planning, with a focus on key structures used for the purpose, including Wills and Trusts. 
Aims of the Estate Planning Exercise:
Smooth inter-generational transfer;
Reducing uncertainties for administration of assets;
Minimising family discord;
Asset protection from third party claims; and
Providing opportunity for restructuring holdings in group companies.
Takeaways:
Basic concepts and steps involved in estate planning;
Structure options – Wills vs Trusts vs Lifetime gifts – Pros and Cons;
Importance of choosing trusted advisors; and
Application to practical situations.
Registration:
Open to IACC members only.   No participation fee, however prior registration is required. Please click the following web link to register online: https://tinyurl.com/Estateplanning-Nov3
We encourage interested members to register and benefit from the discussion.
Please feel free to contact us for any further queries/clarifications. Look forward to your active participation,
Thanking you,
Yours sincerely,
Sujatha Ravishanker



Who Should Attend?

Anyone looking to understand more about getting their / their family's assets and business affairs in order, during and after their lifetime.