By Registration Only
Event Date: 7th June 2019
July 29th, 2019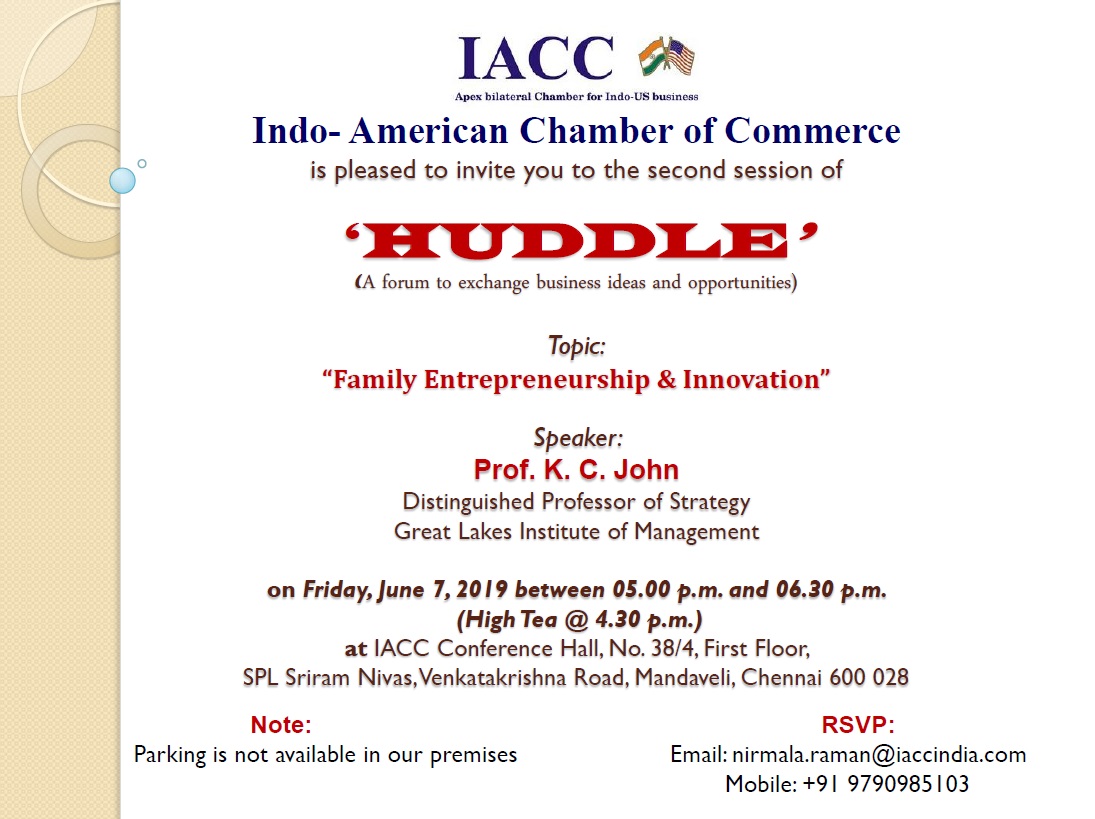 We are pleased to invite you to IACC's "HUDDLE" a stimulating forum in which business ideas and opportunities can be presented and discussed by fellow members.  The second session in this series is scheduled on Friday, June 7, 2019 between 05.00 p.m. and 06.30 p.m. at IACC Conference Hall, No 38/4 SPL Sriram Nivas, Venkatakrishna Road, First Floor, Mandaveli, Chennai – 600 028.
On this occasion, our Guest speaker from Great Lakes Institute of Management, Chennai Prof K.C. John, Distinguished Professor of Strategy will talk on "Family Entrepreneurship & Innovation" and will introduce best management practices to family business enterprises.
Objective of the Session:
Family businesses make up a major part of the global economy. In India, family businesses contribute nearly 60-70% of GDP in the organized sector, and far larger in the unorganized sector. India has the third-largest number of family-run businesses in the world after the US and China, according to a recent credit Suisse report.
Speaker Profile:
Currently, as Distinguished Professor of Strategy and Family Entrepreneurship at Great Lakes Institute of Management, John is the Program Director of Babson/GLIM Global Post Graduate Program – Family Enterprises Management.
Adept at simultaneously balancing several successful careers in the spheres of technology, innovation, entrepreneurship and sustainable development, for over 30 years, John navigates actively as educator, coach/mentor and entrepreneur and often sits on the board of pre- and post-IPO companies as an independent director. The unifying theme of a career spanning 30 years, in a diverse range of sectors, is innovation and entrepreneurship. John focuses on applying leading-edge technologies and globally relevant research to local-level problems. He enhances entrepreneurial mindset and strategic thinking among start-up founders, policy-makers and managers. KC John earned his doctorate degree from the Indian Institute of Management, Ahmedabad
Registration:
There is no fee to participate. However if you are interested, you are requested to complete the following details and submit by email on or before June 5, 2019 to nirmala.raman@iaccindia.com to process your registration.
| | |
| --- | --- |
| Name: | |
| Designation: | |
| Company Name: | |
| City: | |
| Mobile: | |
| Email: | |
| Line of Business: | |

Note: Car Parking is not available in our premises.