By Registration Only
Paid
Event Date: 23rd August 2018
February 4th, 2019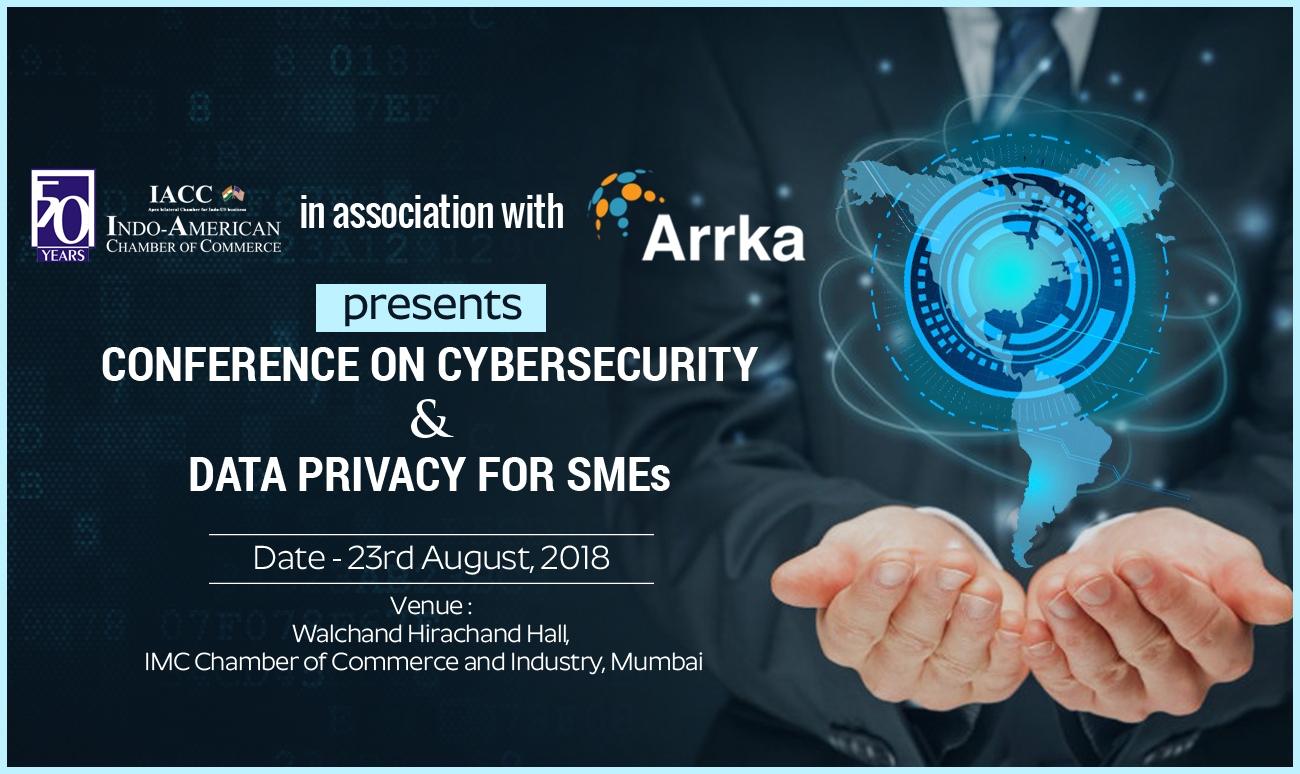 Greetings from IACC and Arrka!
The Indo American Chamber of Commerce (IACC) in association with Arrka is organising a conference on "Cyber Security & Data Privacy for SMEs". The conference is specially designed for Small & Mid-Size Enterprises who have their unique challenges which are different from those faced by large enterprises. The conference is scheduled for 0930 hrs on Thursday, 23rd August 2018 at the IMC Chamber of Commerce and Industry, Walchand Hirachand Hall (4th Floor), Churchgate, Mumbai.
All businesses – big or small – run on data. Most data today is generated and maintained in digital form. Along with the tremendous benefits that data in digital form brings, a host of risks also emerge. Not acting on managing these risks can bring the business to a standstill….or woes.
The Conference aims to give SMEs an overview of what these risks are, the threats & vulnerabilities they face, types of frauds & attacks that they are likely to encounter with examples & cases from recent times coupled with frameworks and solutions available in managing these challenges – keeping in mind the unique constraints of resources, expertise and budgets that typical SMEs face.
The knowledge partner for the conference is Arrka Consulting.
The conference will be addressed by experts from eminent industries dealing with cyber security solutions, practicing information risk professionals, law enforcement personnel and experts from related fields.
We would like to request your kind participation in this unique conference. You may confirm your participation by filling up the attached registration form. To confirm your participation please drop an email at trupti@iaccindia.com; satya.rath@iaccindia.com
We look forward to your participation in this Conference.
Session Topics:

Understand Cyber Security & Data Privacy from SME Perspective
Cyber Security Incidents Crime & Frauds
Real time cases on Security Incidents
Solutions & Best practices to address challenges faced by SMEs

Participant's Profile:

Policy Makers
CEOs, MD
CIOs / CTO / SVP CISO
Head of Information Security
Chief Privacy Officers (CPO)
Chief Risk Officers (CRO)
Research Institutions

Sectors:

Cyber Security Companies
IT / ITES
BFSI
Manufacturing
SME Industries
E-Commerce
Government & Public Sector
| | |
| --- | --- |
| Entry INR Price (Non Members) | 750 /- (Inclusive of taxes) |
| Entry INR Price (Members) | 500 /- (Inclusive of taxes) |



Who Should Attend?

Policy Makers
CEOs, MD
CIOs / CTO / SVP CISO
Head of Information Security
Chief Privacy Officers (CPO)
Chief Risk Officers (CRO)
Legal Counsels
Research Institutions

Event Partners

Corporate Contributor

Online Media Partner