Free
Event Date: 4th December 2018
August 10th, 2019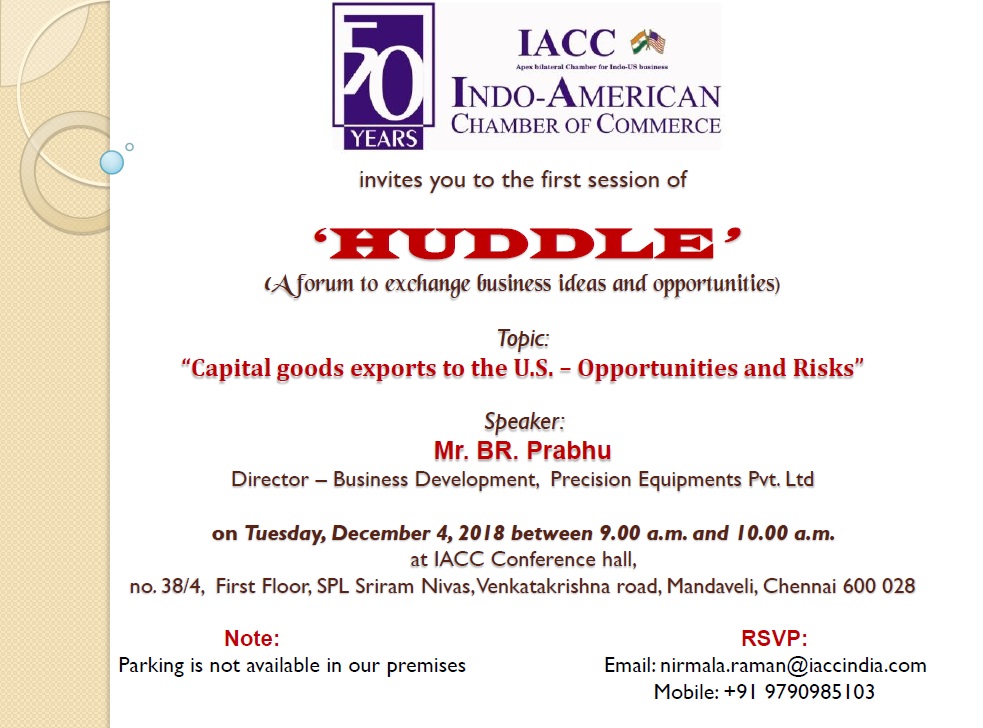 We are pleased to invite you to IACC's "HUDDLE" a stimulating forum in which business ideas and opportunities can be presented and discussed by fellow members.  The first session in this series is scheduled on Tuesday, December 4, 2018 between 9:00 a.m. and 10.00 a.m. at IACC Conference Hall, No 38/4 SPL Sriram Nivas, Venkatakrishna Road, First Floor, Mandaveli, Chennai – 600 028.   On this occasion, Mr. BR. Prabhu, Director – Business Development, Precision Equipments Pvt. Ltd is our guest speaker and will speak on "Capital goods exports to the U.S. – Opportunities and Risks".
With the U.S. becoming a net exporter of Shale Oil, there is a surging demand for capital goods in the U.S. market and the majority of it has to be sourced outside of the U.S.  Find out what opportunities and risks are involved in this sector and how your company can be a part of it. This is intended to be an interactive session where people can discuss and share experiences on solutions to entry barriers in doing business in the US for MSME's.
Registration:
There is no fee to participate. However, you are requested to complete the following details and submit by email to nirmala.raman@iaccindia.com to process your registration. We request you to nominate suitable representatives from your company who can attend and benefit from the deliberations.
| | |
| --- | --- |
| Name: | |
| Designation: | |
| Company Name: | |
| City: | |
| Mobile: | |
| Email: | |
| Line of Business: | |
We look forward to receiving your registrations soon.