Paid
Event Date: 1st to 3rd June 2020
February 27th, 2020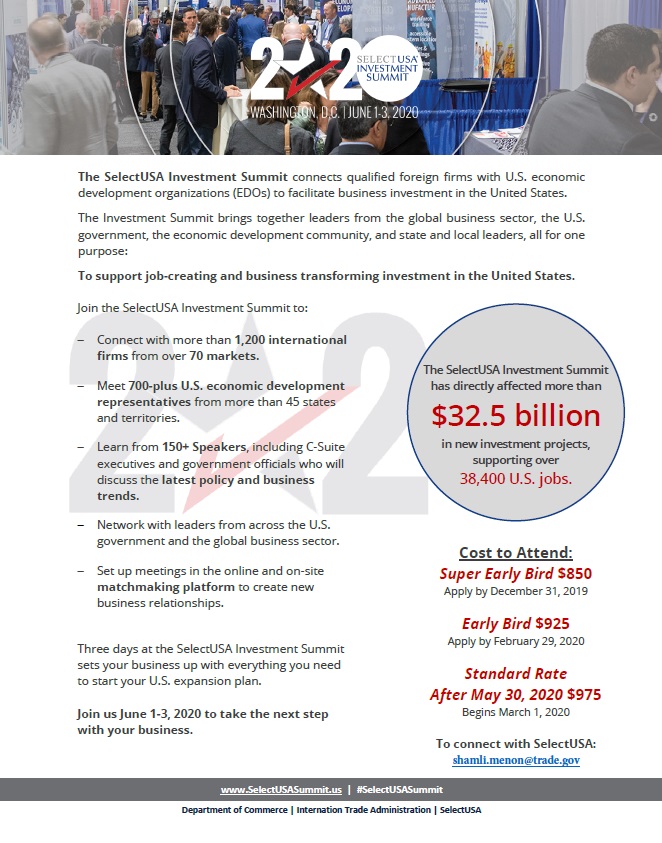 About SelectUSA:
Established in 2011, SelectUSA, is the primary US federal government program to facilitate business investments in the United States. We work one-on-one with investors to offer tools, data, and other information; identify relevant federal programs; demystify federal rules and regulations; and link businesses with partners and resources.
I would encourage you to visit the SelectUSA website: www.selectusa.gov for more information.
Also, Registration is open for the seventh SelectUSA Investment Summit in the Washington, DC area on June 1-3, 2020!
The SelectUSA Investment Summit is the highest-profile event dedicated to promoting foreign direct investment (FDI) in the United States.
Each Investment Summit focuses on the U.S. investment environment, industry trends, and new opportunities. Additionally, the Investment Summit features senior government officials, C-Suite business executives, and other thought leaders and opportunity to meet with Economic Development organizations ( EDO) from almost all the states.
The 2019 SelectUSA Investment Summit was one of SelectUSA's largest, drawing more than 3,100 attendees to Washington, D.C.  Announcements for nearly $100 million in new investment projects were made with a total of 1,200 business investors from a record 79 international markets.
I urge you to register soonest as the SUPER EARLY BIRD discount ends on December 31st, 2019.
You can register now at www.selectusasummit.us  . Please see attached flyer for additional details.
Are you an early stage and startup Tech companies?
Learn more about SelectUSA Tech program here:
https://www.selectusasummit.us/Programming/SelectUSA-Tech
The website: https://www.selectusasummit.us/ is very elaborate and covers most of the information one needs to plan the trip.