By Registration Only
Event Date: 15th September 2020
Applications have closed
October 12th, 2021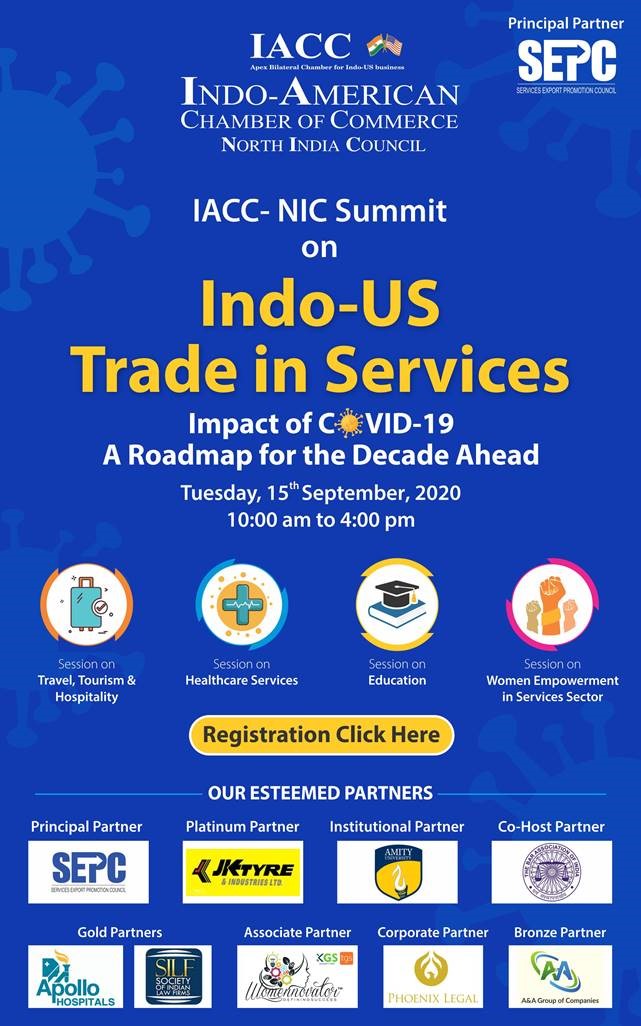 IACC being the bilateral Chamber to promote partnership amongst Indian and US businesses and other stakeholders, considers that it is our responsibility to provide a platform for discussing the impact of COVID 19 on the Service Sectors with the objective of evolving a cross country mechanisms for addressing the fall out of the pandemic and evolve steps for averting such incidences in the future.
We are pleased to inform you that the Indo-American Chamber of Commerce (IACC), North India Council (NIC) in association with Services Export Promotion Council (SEPC) is organizing its 1st Flagship Services Summit on "Indo-US Trade in Services" with theme – "Impact of COVID-19 – A Roadmap for the Decade Ahead" on Tuesday, 15th September 2020 from 10.00 am to 4.00 pm on Virtual platform.
The Summit Agenda is as follows :
10.00 am-11:30 am Inaugural Session
11.35 am – 12.35 pm Session on Travel, Tourism & Hospitality
12.40 pm – 01.40 pm Session on Healthcare Services
01.45 pm – 02.45 pm Session on Education
02.50 pm – 03.50 pm Session on Women Empowerment in Services Sector
03.50 pm Summing up
Vision Statement for the Summit
To unleash the potentials in the services sector in India and the US in a win –win manner to catalyze an inclusive growth and to create growth enablers for intense partnership between the private sectors of both countries during and post Covid-19 by synchronizing, complementing and value adding to each other's activities and capabilities.
Mission Statement
To create credible and enduring structures and platforms that can bring service sector players from both countries to discuss and curate pragmatic pathways for continued dialogue and engagement in every segment and layer of the services sector, particularly among the start-ups, micro, small and medium sectors to promote handholding and joint working among them and to assess the extent and impact of the "new normal" unfolding in each other's country.
Focus of the Summit
· To assess the extent of market potentials in the sub sectors of the services sector in relation to Travel, Tourism, Hospitality, Healthcare, Education and Women Empowerment during the Covid-19 and the post Covid-19 days.
·Covid-19 has triggered important bilateral dialogues between the Indian and US administrations on the future frontiers of cooperation in many sectors including services segments, particularly in the healthcare segment. The Summit will throw light on the broad contours and direction of such discussions at the government to government (G to G) level, which will have a significant impact on the bilateral engagement.